——Indonesia Fudong 2020 Annual Work Conference was grandly held
On January 18-19, 2020, the 2020 annual work conference of Indonesia Fudong Construction Co., Ltd. was grandly held in Jakarta. According to the agenda, the meeting analyzed the completion of the operating indicators for 2019 and clarified the operating indicators for 2020 and decomposed them; each project department, functional department, company administrative vice president Zhu Rongjian, engineering vice president Ma Jinyuan, and general manager Zheng Guofu respectively improved management and operation The main business and planning for the future will be a summary of the work in 2019 and the assignment of tasks and requirements for 2020. In 2109, the company "adjusted in development, and developed in adjustment". All employees of Fudong Company work hard with the working attitude of "increasing staff and improving efficiency, ensuring in place, effective management, seeking truth and being pragmatic", and working hard with the general requirements of "finding gaps, ensuring quality, emphasizing safety, and fulfilling responsibilities", and successfully completed Set goals for the whole year. As of the end of 2019, there are 14 projects under construction, of which 13 projects in Indonesia have achieved a cumulative operating income of 396.62 million yuan (excluding projects in Vietnam), which is 120.92% of the annual plan.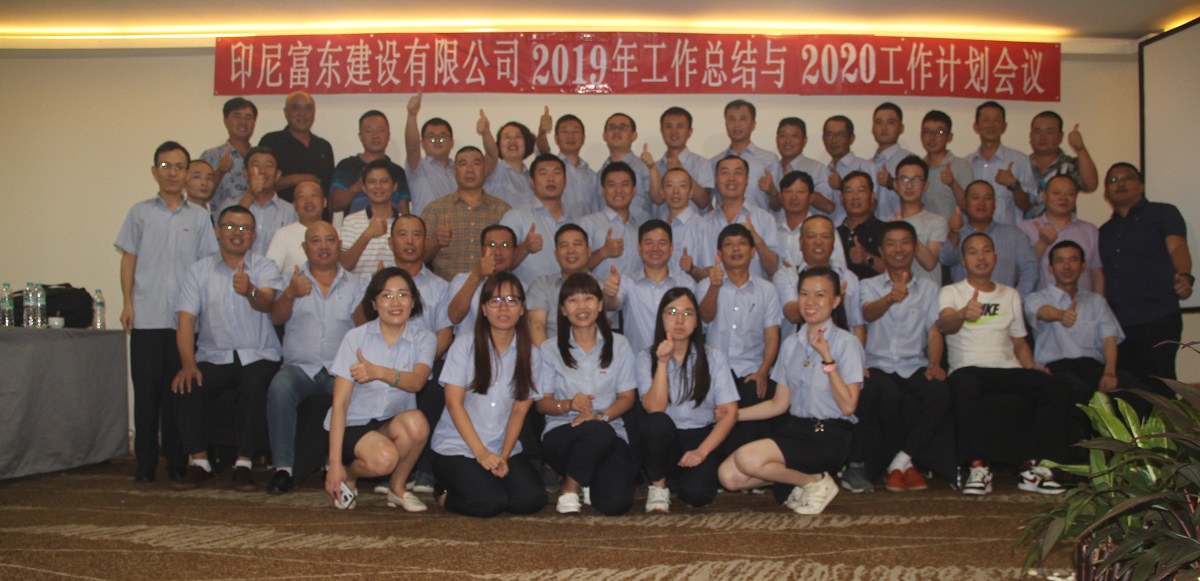 Group photo of participants
Before and during the meeting, the company's high-level organizations participated in the symposiums with the main heads of the project department, the heads of functional departments, and the subcontracting partners. At the symposium, representatives of all parties faced problems and provided suggestions and suggestions, and worked hard to move towards "consultation, joint construction, Sharing and win-win" model. The main person in charge of each project department and the person in charge of the functional department signed the 2020 business indicator (target) responsibility letter with the company.
Looking forward to 2020, all Fudong people sounded the horn and set off again. In line with the Fudong spirit of "responsibility, unity, pragmatism, and economy", with the quality concept of "thoughtful planning, strict requirements, originality, and casting of fine products", we will be determined to build Fudong brand, concentrating efforts to establish Fudong reputation!
(Indonesia Fudong Construction Co., Ltd.)